FanDuel Fantasy Football Betting - The Best Site On The Web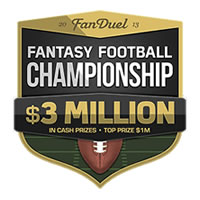 Fantasy football in the NFL is one of the driving forces behind the popularity of the league. Certainly there are fans that follow their teams regardless, but what fantasy football has done is create interest for teams that fans would otherwise not care about. What FanDuel.com does is take fantasy football, and give people the chance to create daily and weekly teams to place bets throughout the season. One of the potential limits of fantasy football is that it lasts the entire season for which you have the same team. FanDuel allows new teams to be created every week, and new chances to win cash every week.
FanDuel is one of the most reputable and widely used fantasy betting sites around. Account holders can play for free or deposit funds into their account to enter various tournaments and pools. They can even create their own league for the day or week.
More About FanDuel.com
FanDuel.com launched in 2011 and since has grown to where they pay account holders out $4 million a month. In 2012, FanDuel paid out a total of $50 million in winnings to bettors who wagered on fantasy sports, of which football is the largest portion.
Betting on fantasy sports is a new way to get in on action. Combining the appeal of fantasy football with the appeal of sports betting and forming the best of both worlds is a concept that will continue to grow.

Getting Started At FanDuel - How To Create An Account + Enter Paid Fantasy Football Games
Creating an account at FanDuel is very simple. There are just a few basic pieces of information needed to include when signing up to get things started. Prospective account holders will need to include their name, address and a contact email. The email will be used to verify an account. This is the time where a login and password is created to gain access to the account.
Once the account is created, it's time to get in on NFL fantasy football gambling. To do so, enter the NFL section which will bring up available tournaments. It will be specified if they are daily or weekly tournaments, what the entry fee is, how many players are accepted, and other information if applicable. There is also the option to formulate your own league and invite other account holders into a tournament. It can be an open tournament or a private tournament.
Ready To Get Started? - Click Here!
When Are Tournaments + Real Money NFL Fantasy Games Available At FanDuel?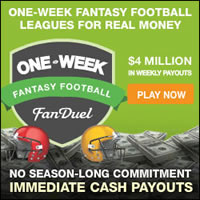 Because NFL fantasy tournaments can be daily and weekly, there are actually a few different times that tournaments can be created and entered. First from the general perspective, NFL fantasy betting is available during the pre season, regular season, and through the playoffs up through the Super Bowl.
In terms of the days in which tournaments are available, with the NFL starting its weeks on Thursday night it can vary. Some leagues include Thursday night games, while others might limit them to Sunday games. But with the wide variety of options, there are all different types of leagues found on this site that should allow users plenty of opportunity to play for money.
FanDuel Tournaments Run:
Thursday Night Football through Monday Night Football
Sunday through Monday Night Football
Sunday 1pm Games Only
Sunday Day / Afternoon / Night Games Only
Primetime Games (SNF + MNF)
| | | | |
| --- | --- | --- | --- |
| Other Websites Like FanDuel | Best Feature | PayPal? | Visit |
| DraftKings | Flex Position For TE/WR/RB | YES | |
| DraftStreet | Up To $200 In Bonuses First Deposit | YES | |