DraftStreet NFL Fantasy Games - Servicing Players Since 2010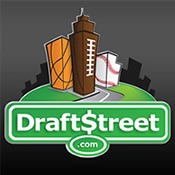 Turn your love of fantasy football into some big-time profit through DraftStreet.com, one of the newest fantasy betting sites around. This site allows for NFL fantasy football leagues to be taken to the next level, and then some. The premise here encompasses daily and weekly fantasy leagues that provide account holders the chance to wager on different teams that they create to go against other teams.
This allows for users to create as many fantasy football teams they want every week. Or if they prefer, they can use this service off and on during the season. The nice thing is that there isn't a commitment to the entire season. In fact, there isn't even a commitment to have to play for money. DraftStreet.com offers plenty of free fantasy leagues as well.
More About DraftStreet.com
Launched in 2010, DraftStreet.com is a company/website based in the United States. NFL fantasy betting is not the only type of fantasy betting that they offer, but it definitely makes up their largest portion of the site and the number of players that enter the daily and weekly tournaments.
Since its inception, DraftStreet.com has become one of the most widely used fantasy betting sites in the United States. In fact, right on their homepage it says that some of their top players, in terms of earnings, win more than $100,000 per month through the daily and weekly leagues offered there.

How To Get Started At DraftStreet - Be Betting On Fantasy Football In A Matter Of Minutes
In order to use DraftStreet, an account will need to be created. This is how you will login in and out of the site and gain access to the free and pay leagues that are offered. Once in the site through your login in, getting started with NFL fantasy betting is easily done as well.
What first will need to be established is whether or not you are playing for free or for money. If it's for money, a deposit into your account through one of the simple funding methods accepted by DraftStreet will need to be completed. Once that is handled, the available open leagues are shown and categorized by what type of league and what days of the NFL they cover. If you want to create your own paid league and invite friends or keep it open to the public is also another option that is available. You can go against your friends, or other users.
Ready To Get Started? - Click Here!
When Can You Bet On Fantasy Football At DraftStreet?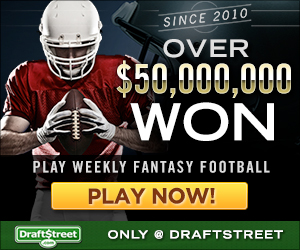 Obviously NFL fantasy betting isn't offered year round. But once the NFL is in season things go into gear. There are preseason leagues that are available, which give four weeks of game action before the regular season gets going. The 17 weeks of the regular season as well as the three playoff games and the Super Bowl all field fantasy betting leagues.
During the regular season there will also be more daily and weekly leagues offered. There are NFL games on Thursdays, Sundays, and Mondays. All are available for single day leagues, or single week leagues with differing combinations. If you miss out on a Thursday, there will be Sunday + Monday night fantasy football leagues at DraftStreet, Sunday leagues, or just Monday leagues. That's what makes this site really neat.
DraftStreet Tournaments Run:
Thursday Night Football through Monday Night Football
Sunday through Monday Night Football
Sunday 1pm Games Only
Sunday Day / Afternoon / Night Games Only
Primetime Games (SNF + MNF)
Monday Night Football Only
| | | | |
| --- | --- | --- | --- |
| Other Websites Like DraftStreet | Best Feature | PayPal? | Visit |
| FanDuel | Enormous Selection Of Tournaments | YES | |
| DraftKings | Up To $200 In Bonuses First Deposit | YES | |