DraftKings Fantasy Football - 100% Deposit Bonus + Promos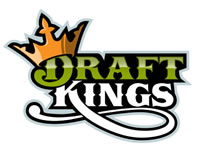 If you are looking for a new and fun way to bet on the NFL, then you've come to one of the right pages on our site. DraftKings.com allows their account holders to turn their fantasy football passion into big-time profit. No longer are you restricted to your work leagues or friend leagues where it's a season-long event that profits only a certain amount. While fantasy football is certainly fun, DraftKings is proud to present the chance to make it even better with daily + weekly games.
At DraftKings.com, account holders are not committed for a season; they aren't even committed to play for money if they don't want to. Whether you want to try it out for a day, a week, or throughout the entire season sporadically, the flexibility of betting on fantasy football at DraftKings.com is really cool.
More About DraftKings.com
DraftKings.com is a site based in the United States that offers fantasy betting on several different leagues, led by the NFL. There is the chance to bet real money to win real money through a variety of different tournaments and leagues. DraftKings does not provide you with the traditional parameters of fantasy sports that last throughout the season.
DraftKings pays users millions upon millions of dollars each week and those users have the chance to bet and play at their own pace. There is no commitment to playing every week and setting a new lineup. If you feel like skipping a week, that is perfectly fine. If you feel like forming 25 teams for the week and entering 25 different tournaments, DraftKings says go for it!

Play Today At DraftKings - Here's How You Get Started!
The creation of a DraftKings account is the first step in the process. This takes only a few moments of your time, and will get you on your way to getting started with NFL fantasy betting.
If you're ready to sign up at DraftKings, it is as easy as clicking enter. If you are playing for free then there is no need to worry about the funds in your account. However, if you are looking to lay down money on the tournaments that you enter than a deposit is necessary. This can be done through a credit card or through PayPal to make things very convenient. There are open leagues and there are private leagues. Account holders can join an open league, join private/invite leagues or even create their own leagues + contests!
Ready To Get Started? - Click Here!
When Does DraftKings Run Fantasy Football Tournaments For Cash? When Can I Enter?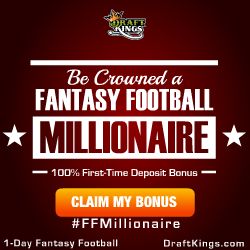 From the start of the NFL preseason DraftKings will have NFL fantasy betting available although it's during the regular season when things really take off. But unlike your typical fantasy football league, it doesn't stop at the end of the regular season or before. In fact, fantasy betting at DraftKings goes all the way up to the Super Bowl with each conference's championship game.
Your standard fantasy league will also encompass the entire week with the same players. At DraftKings, there is an option to use players just from a Thursday Night game, a Sunday game, a Monday game, or any combination thereof. That's one of the nice things about the daily and weekly fantasy football leagues... there is always going to be something for everyone.
DraftKings Tournaments Run:
Thursday Night Football through Monday Night Football
Sunday through Monday Night Football
Sunday 1pm Games Only
Sunday Day / Afternoon / Night Games Only
Primetime Games (SNF + MNF)
| | | | |
| --- | --- | --- | --- |
| Other Websites Like DraftKings | Best Feature | PayPal? | Visit |
| FanDuel | Enormous Selection Of Tournaments | YES | |
| DraftStreet | Up To $200 In Bonuses First Deposit | YES | |